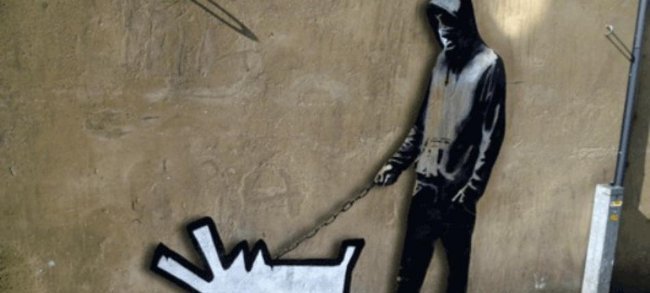 UK's Most Prominent Street Artists
The UK is home to a very rich street art scene. Although most forms of street art are formally condemned and street artists are classified as vandals or criminals, they are today mostly positively received by the public, while many have achieved a major international success. Despite that, most are known only by their pseudonyms.
Some of UK's most prominent street artists include:
Banksy. Probably the most famous English street artist who has created a huge following started his artistic career as a part of the Bristol underground scene in the 1990s. By the end of the century, he established himself as one of the UK's leading street artists and began exhibiting in galleries across the world. Ever since, his career has been on the rise. His identity remains a matter of speculation.

Cartrain. Just like Banksy, Cartrain carefully hides his identity. He entered the UK's street art scene at the age of 14 and soon attracted a lot of attention with both his provocative motives and the selection of the location. In 2008, he got into conflict with Damien Hirst over collages incorporating Hirst's skull sculpture "For the Love of God". Hirst contacted the Design and Artists Copyright Society (DACS) that took action against Cartrain. In response, the latter removed pencils from Hirst's installation "Pharmacy" in Tate Britain. He was arrested for theft but the charges were later dropped.

Inkie (Tom Bingle). Along with Banksy, Nick Walter and 3D, Inkie is one of the key figures in Bristol street art scene. His street art career began in the early 1980s when he was a part of the CIC (Crime Incorporated Crew). In 1989, he was arrested but he remained active in street art to the present-day. Today, he is also an art and graphic design teacher.

3D (Robert Del Naja). Today, he is best known as a musician and one of the founders of Massive Attack. But before he became a vocalist, Del Naja was a street artist known under the pseudonym 3D until he was caught and arrested in the mid-1980s. In the street art scene, he is renowned as one of the UK's first stencil artists who had a major influence on the next generation of artists including Banksy.

Stik. London-based street artist is known for his stick figures that are can be found around the UK's capital, especially Hackney and Shoreditch. His artworks, however, can also be found in London galleries and have been popular as unique presents. He held his first solo exhibition in 2011.